Te Wiki Kua Hipa: Maori Party Round-up - #4 - March - 15 - 2012

---
Te Wiki Kua Hipa: Māori Party Round-up
SPECIAL EDITION: Order Paper
16 March, 2012
E ngā mātāwaka o te motu, tēna rā koutou katoa. Nau mai hoki mai ki te pūrongo-ā-wiki o te Paati Māori.

NOTE: For further information on the topics below, please click on the words that are underlined and blue.
Auckland Poly Fest
Pita attended the Auckland Polynesian Festival this week. It is the biggest Pacific cultural event in the world, where secondary students from all different schools perform on different stages to represent their culture. Pita goes every year, not just because he is MP of Tamaki Makaurau, but because he has a love of kapa haka, which has filtered through his community and his whanau. Last year his kura Hoani Waititi won the comp, so with the finals on Saturday, we will see who comes out tops!
Dr. Sharples has been a staunch advocate for kapa haka over the years, and is keen to support the Polyfest to seek sustainable funding into the future.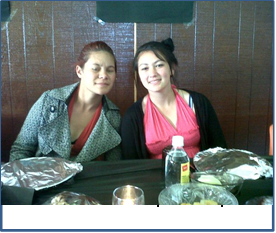 World Champs in Murupara
Te Ururoa went to Murupara recently to celebrate the achievements by two young women who participated at the World Boxing Championship in Serbia. Roxaine Duff and Aroha Sorenson (pictured) won a silver and bronze medal respectively and Te Ururoa says their community could not have been any prouder. Last year when Roxaine and Aroha left for the World Champs, Te Ururoa described the pair as role-models and encouraged others to view the Murupara community in a more positive light, such as what these two wahine toa have achieved.
Tariana's a top read
Each week our MP for Te Tai Hauauru writes a column for the Whanganui Chronicle. This week, her penetrating piece on alcohol reform, and addressing social hazards in our lives hit the 'most read' list for the regional newspaper. The Maori Party is committed to strong, healthy whanau, and to us, that means really addressing issues around smoking, alcohol and gambling.
Ports of Auckland
Dr Sharples again met with both the Maritime Union group and the Ports of Auckland to advocate for continuing negotiations between the two parties. He has arranged to meet with Mayor Len Brown, and is looking to see if together they can bring the parties back together to work towards a positive resolution.
ORDER PAPER
Here is a list of the Bills which are coming up for consideration in Parliament over the next few weeks. The Maori Party would like to hear your thoughts on how these Bills will affect Maori communities and development into the future. We welcome your feedback which will help us to determine our votes on these kaupapa.
The Māori Party welcomes your feedback: maoriparty@maoriparty.org

---
Kia ora Subscriber ,
If you wish to unsubscribe to these regular updates please click on this link: #